Thornton Goes Back-To-Back In Lucas Oil Late Model Dirt Series Knoxville Nationals Prelims
Story By: LUCAS OIL LATE MODEL DIRT SERIES – KNOXVILLE, IA – Ricky Thornton Jr. made it back-to-back in preliminary features at Knoxville Raceway as he led wire-to-wire in the 25-lap $7,000-to-win event on Friday night.
The win was his 19th of the season for the Martinsville, Indiana racer and former Iowa resident.
Thornton will try to become only the second driver in the history of the Lucas Oil Late Model Knoxville Nationals to sweep the weekend if he can capture the 75-lap A-Main on Saturday night. Billy Moyer is the only driver to do so in 2010.
Chad Simpson, the current Lucas Oil MLRA points leader finished in second followed by 12th place starter Devin Moran who rounded out the Big River Steel Podium in third. Brandon Overton, who ran as high as second in the race was fourth with Kyle Bronson completing the top five drivers.
Thornton jumped to the lead at the start of the race and the only time he was slowed was for the lone caution of the race with 16 laps complete. Chad Simpson held the second spot for 24 of the 25 laps as the only time he didn't was when Overton got by him on lap 16, before the caution came out. On the restart Overton fell back to fifth which allowed Simpson and two other drivers to get by. Overton was able to get by Bronson on the final lap to salvage fourth.
It was Thornton's 24th Lucas Oil Late Model Dirt Series win of his career as he looks to complete a possible $64,000 weekend out of a $262,000 total purse. Thornton's winning margin was a convincing 3.815 seconds when the checkers flew.
"I didn't know if I needed to stay around the top. I got to [Todd] Cooney and [Daniel] Hilsabeck and I went to the bottom, and I felt like I made a better lap, but [Christopher] Jayco said lap time wise I was better where I was. It's cool to win on Burroughs' [crew chief Anthony] birthday so hopefully we will party a little bit tonight. We were thinking about just testing earlier tonight after last night, but we were going for it. We went with a completely different set-up from last night and I think we picked up a little bit of speed there. I think we know what we need to do tomorrow."
Chad Simpson, who won a preliminary night race in 2015, took back the second spot from Overton after a lap 17 restart. "We were chasing it all night long last night we chased it early tonight, but everything then fell through and the car got good. We started so deep then tonight we put ourselves in a good position we timed better and raced better," said the three-time and reigning Lucas Oil LMRA champion. "Man there at the end of that race I was really good, so we can go a little longer tomorrow night and see what happens. It would be awesome to win here tomorrow night. To be honest with you it's probably the best feeling race car we have had in a long time. So, it's exciting and we are pumped up, that's what we come here for."
Moran, who comes into the weekend sixth in the Lucas Oil Late Model Dirt Series standings rallied from his outside sixth row starting spot to take third. "You've got to drive hard every lap you know. It's obviously not like Volusia, but these big half-miles, you've got to hit the grip. I love racing on these kinds of tracks. This place is awesome, it was a lot of fun tonight. We've got to conserve ourselves tomorrow night you can't drive that hard for 75 laps around here, we need to stay in the top five," said the Ohio native who is making just his second start at Knoxville. He finished fourth in 2019 in his only other appearance at the Marion County Fairgrounds track.
The winner's Todd and Vickie Burns-owned, Longhorn Chassis is powered by a Clements Racing Engine and sponsored by Big River Steel, Hoker Trucking, Coltman Farms, Sub-Surface of Indiana, Dyno One, Inc., West Side Tractor Sales Company, D&E Outside Services, Certified Inspection Service Company, Inc., Sunoco Race Fuels, Bilstein Shocks, Midwest Sheet Metal, Excel Floor Covering, and Murty Farms.
Completing the top ten were Daulton Wilson, Spencer Hughes, Brandon Sheppard, Hudson O'Neal, and Ryan Gustin.
Lucas Oil Late Model Dirt Series
Race Summary
Knoxville Late Model Nationals | Prelim Night 2
Friday, September 15, 2023
Knoxville Raceway – Knoxville, IA
Allstar Performance Time Trials
Fast Time Group A: Brian Shirley | 17.294 seconds (overall)
Fast Time Group B: Brandon Overton | 17.344 seconds
Penske Shocks Heat Race #1 Finish (12 Laps, Top 5 Transfer): 1. 20RT-Ricky Thornton Jr[4]; 2. 58-Garrett Alberson[1]; 3. 22F-Chris Ferguson[3]; 4. 19R-Ryan Gustin[5]; 5. 30-Todd Cooney[2]; 6. 8S-Brian Shirley[6]; 7. 7W-Ricky Weiss[8]; 8. 39-Tim McCreadie[7]; 9. 1X-Aaron Marrant[9]; 10. 10W-Junior Coover[10]
Summit Racing Products Heat Race #2 Finish (12 Laps, Top 5 Transfer): 1. 1H-Hudson O'Neal[3]; 2. 25-Chad Simpson[5]; 3. 157-Mike Marlar[6]; 4. 98-Cory Hedgecock[7]; 5. 1T-Tyler Erb[2]; 6. 22-Daniel Hilsabeck[8]; 7. 32-Chris Simpson[4]; 8. 99JR-Frank Heckenast Jr[9]; 9. 17-Tim Simpson[1]; 10. 22M-Charlie McKenna[10]
Simpson Race Products Heat Race #3 Finish (12 Laps, Top 5 Transfer): 1. B5-Brandon Sheppard[1]; 2. 111B-Max Blair[2]; 3. 11-Spencer Hughes[5]; 4. 16-Tyler Bruening[4]; 5. 4-Brandon Overton[6]; 6. 49-Jonathan Davenport[3]; 7. 62-Justin Zeitner[7]; 8. 51-Matt Furman[8]; 9. 21M-Luke Merfeld[9]; 10. (DNS) 6-Al Humphrey
AP1 Insurance Heat Race #4 Finish (12 Laps, Top 5 Transfer): 1. 46-Earl Pearson Jr[2]; 2. 99-Devin Moran[3]; 3. 18-Chase Junghans[1]; 4. 40B-Kyle Bronson[6]; 5. 18D-Daulton Wilson[5]; 6. 21-Billy Moyer Sr[4]; 7. 7-Ross Robinson[7]; 8. D45-Dan Battaglia[9]; 9. 99B-Boom Briggs[8]
Fast Shafts B-Main Race #1 Finish (12 Laps, Top 2 Transfer): 1. 8S-Brian Shirley[1]; 2. 22-Daniel Hilsabeck[2]; 3. 7W-Ricky Weiss[3]; 4. 39-Tim McCreadie[5]; 5. 32-Chris Simpson[4]; 6. 1X-Aaron Marrant[7]; 7. 99JR-Frank Heckenast Jr[6]; 8. 10W-Junior Coover[9]; 9. (DNS) 17-Tim Simpson; 10. (DNS) 22M-Charlie McKenna
UNOH B-Main Race #2 Finish (12 Laps, Top 2 Transfer): 1. 49-Jonathan Davenport[1]; 2. 62-Justin Zeitner[3]; 3. 7-Ross Robinson[4]; 4. 51-Matt Furman[5]; 5. 21-Billy Moyer Sr[2]; 6. D45-Dan Battaglia[6]; 7. 99B-Boom Briggs[8]; 8. 21M-Luke Merfeld[7]; 9. (DNS) 6-Al Humphrey
Knoxville Late Model Nationals | Prelim Night 2 Feature Finish (25 Laps):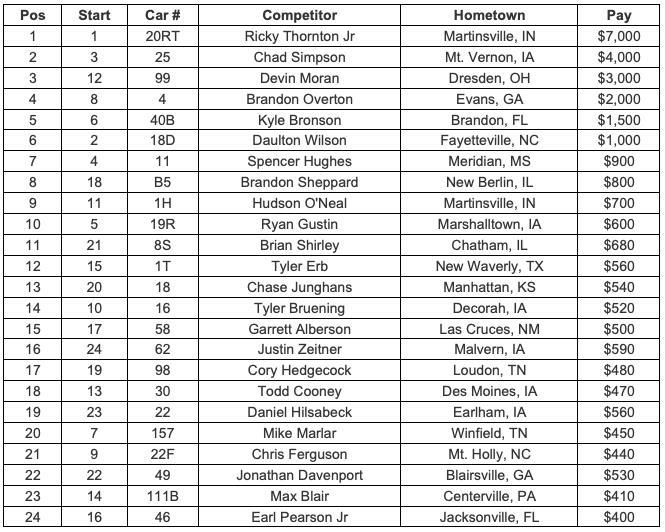 Race Statistics
Entrants: 39
Terminal Maintenance & Construction Pole Sitter: Ricky Thornton, Jr.
Lap Leaders: Ricky Thornton, Jr. (Laps 1-25)
Wieland Feature Winner: Ricky Thornton, Jr.
rizona Sport Shirts Crown Jewel Cup Feature Winner: n/a
Brandon Ford TV Challenge Feature Winner: n/a
Margin of Victory: 3.815 seconds
Gorsuch Performance Solutions Cautions: n/a
Series Provisionals: n/a
Fast Time Provisional: n/a
Series Emergency Provisionals: n/a
Track Provisional: n/a
Big River Steel Podium Top 3: Ricky Thornton, Jr., Chad Simpson, Devin Moran
Penske Shocks Top 5: Ricky Thornton, Jr., Chad Simpson, Devin Moran, Brandon Overton, Kyle Bronson
Todd Steel Buildings Hard Charger of the Race: Brandon Sheppard (Advanced 10 Positions)
Wilwood Brakes Lucky 7th Place Feature: Spencer Hughes
Deatherage Opticians Lucky 13th Place Feature: Chase Junghans
Earnhardt Technologies Most Laps Led: Ricky Thornton, Jr. (25 Laps)
Sunoco Race for Gas Highest Finisher: Ricky Thornton, Jr.
Midwest Sheet Metal Spoiler Challenge Point Leader: Ricky Thornton, Jr.
O'Reilly Auto Parts Rookie of the Race: Max Blair
Etchberger Trucking Fastest Lap of the Race: Ricky Thornton, Jr. (Lap 2 – 18.358 seconds)
MD3 Tough Break of the Race: Tim Simpson
Outerwears Crew Chief of the Race: Anthony Burroughs (Ricky Thornton, Jr.)
ARP Engine Builder of the Race: Clements Race Engines
Miller Welders Chassis Builder of the Race: Longhorn Chassis
Dirt Draft Fastest in Hot Laps: Jonathan Davenport (17.083 seconds)
Time of Race: 11 minutes 27 seconds
Fast Shafts B-Main Line-Up (15 Laps, Top-6 Transfer):

Lucas Oil Late Model Knoxville Nationals A-Main Line-Up (75 Laps):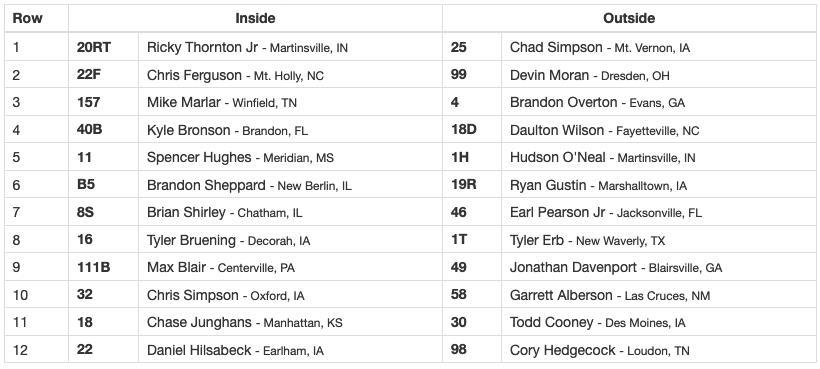 Knoxville Late Model Nationals Prelim Points Breakdown